Sparkling Ice Donates Back-to-school Supplies to Students at Oklahoma City Elementary School
Back-to-school season is a time of many emotions: excitement, curiosity and fun. For many families, it's also a time of uncertainty as costs associated with required school supplies quickly add up. The Sparkling Ice team saw this need and felt there was something we could do to help.
Partnering with Crest Foods in the Oklahoma City market, we created a retail program featuring a $1 donation from Talking Rain for every case of Sparkling Ice sold. The total donation? We raised $5,000, enough to purchase 300 school supply kits for families who need them most.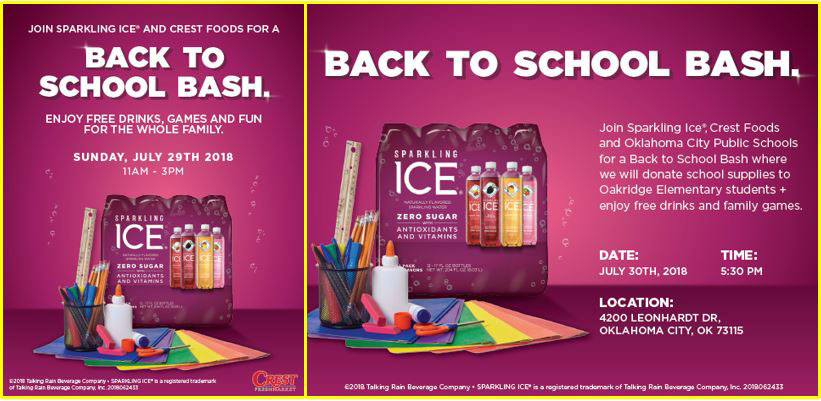 In late July, Sparkling Ice hosted a "Back to School Bash" at Oakridge Elementary School where students received their school supply kits. "Starting a new school year is always an exciting experience and the fact that amazing community partners like Talking Rain Beverage Co. and Crest Foods are ready to step in and help our families makes it even more special," said OKCPS Superintendent, Dr. Sean McDaniels. "For many of our families, purchasing new school supplies represents a big cost for their budget, so these brand-new school kits will help alleviate the burden for our families and our students will be ready to come back to school and have all the supplies they'll need for a year full of learning and growth," he added.
"We are so appreciative of Talking Rain and their generous donation to the students of Oakridge," said Ycedra Daughty, School Principal at Oakridge Elementary. "This is a first for us. All of our students will receive school supplies to begin the school year. On behalf of the students, parents, staff, and Oakridge community, I say thank you to Talking Rain Beverages Co. and Crest Foods."
"Giving back has always been a major pillar of our company values at Talking Rain, and as a mother, I know how important it is for kids to feel supported and set up for success during back-to-school season," said Nina Morrison, VP of Community and Customer Relations at Talking Rain Beverage Co. "We are thrilled to partner with Oklahoma City Public Schools and provide school kits for kids so that they have all the tools and supplies they need to be successful this year."