Sparkling Ice® teams up with Make-A-Wish® and Leah Pritchett to fuel Luci's wish to meet all-star dragster.
When it comes to creating memorable moments infused with fun, Sparkling Ice® is all in! So, when we heard about a special young girl named Luci who wanted to meet our brand partner, NHRA Top Fuel Dragster, Leah Pritchett, we had to make it happen.
Together with Make-A-Wish® Georgia, Make-A-Wish® Greater Virginia and Leah Pritchett, we brought Luci's wish to life, kicking things off with a one-on-one pizza party where the pair traded racing tips and tricks. It was there that Luci learned she would serve as that weekend's Honorary Crew Chief on Leah's team.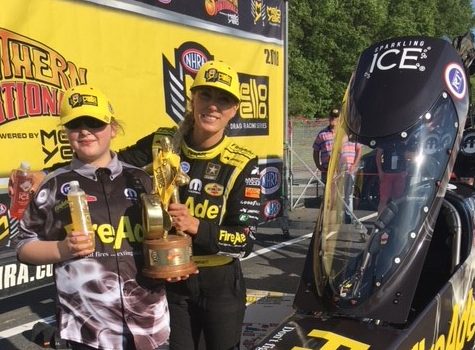 Luci spent the rest of the race weekend helping Leah and her team rise to the top of the rankings, with Leah ultimately taking home the top spot and her first win of the season. The experience wrapped up with custom gifts from the Sparkling Ice® team, including matching "Leah x Luci" logoed hats, jackets and even a one-of-a-kind Sparkling Ice® bottle.
"It was the experience of a lifetime," said Luci. The Sparkling Ice® team couldn't agree more and was honored to be a part of it. Watch out, world. Luci is coming for you … at top speed!